The next stop, Mazatlan. We pulled into the Puento Cerritos RV park in Mazatlan.  There were a lot of RV's there, and some of them had palappas extended from them. A lot of them lived there year round. It seemed to be the hub for the small boardwalk that had some restaurants and some small stores that led down to the water. Down on the beach was what you might expect if there was  a pier…..just no pier!!! There was also a massage shop….more like a sweat shop for the girls, as they were only paid 70.00 per week, working full days .(plus tips) They charged 20.00 for a 1.5 hour massage. I got a Pedi for 15.00 dollars American. (We ended up going back there for a massage as well.)
We stayed for 2 nights, re-arranging the stuff in the RV and preparing to go to the timeshare at El Cid, which by this time we were really ready for!!!
So, off we go to the El Cid condo. We arranged it so that we would be one day ahead of the kids and one day after for a bit of space.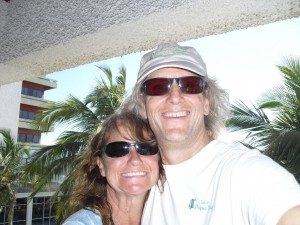 The condo (presidential suite) was awesome, with 2 full suites and three full bathrooms, one of which had a big tub that over-looked the ocean, separate living room and full kitchen, and a lovely balcony that over-looked the pool and ocean. Our suite had its own living room that over-looked the pool and ocean too, and it was great to be at El Cid. It's nice that the kids have their own suite as well! Owen brought me here when we first got together, and we have made El Cid our yearly anniversary vacation destination ever since. It was Allie's spring break, and she had brought her friend, soon to be roommate, Jessie, and a they had a blast! Lots of other kids come from all over the place to party for spring break.
The pools at El Cid are great.  This is a view from the balcony.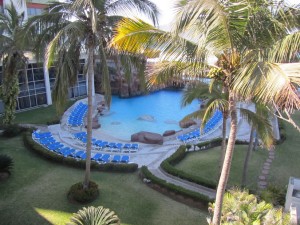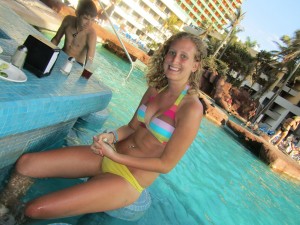 We spent 9 nights and 10 gloriouss days there, eating the cuisine off of the streets…cheap tacos and civiche to die for!!! So yummy. Oysters on the half shell right on the beach. Definitely some of the best oysters that I have ever had! Including a few cervesas and Pina Coladas.  We did lots of walking through town daily, and walks on the beach. Allie is quite the speed walker! It was really great to see Allie again. She's doing great! Getting A's in school, and looking awesome. She's a real cutie-pie! She is also very compassionate. She looks just like her dad!
Allie and Jessie just getting in, so we had lunch and yummy pina coladas!!
It was also Allie's birthday on St. Patrick's Day, and she wanted to go fishing…and so we did! Allie ended up catching a small yellow fin tuna, and Owen caught a red snapper!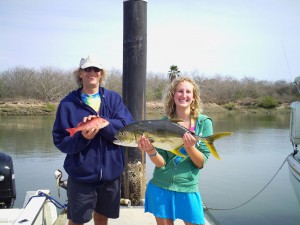 Fishing was lots of fun, and I was very grateful that they had caught some fish!! Into the freezer it goes!

We got up at 6am, and we were out on the water about 7am. It was foggy, and a bit chilly. Allie and Jessie huddled up in some towels, and Owen put his arms around me to help keep me warm. We started off with some trolling, and then did some bottom fishing. I know that there were fish, because they kept eating our bate!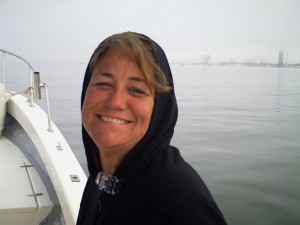 We had a blast anyways! Later on the way home, which is when allie caught the yellow tail, she also ended up hooking onto a pelican!
The captain was great with his crew of one, and he spent all day with for a half of a days rate.
Here fishy fishy!!

We got back to the condo and got ready to go out to dinner for allies birthday. She wanted to see the sunset while eating dinner, and had scoped out a place earlier in the day just a ways down the beach.
Here is a pic of Allie and her dad Owen at her sunset birthday dinner. Jessie and Allie ordered a really yummy shrimp PooPoo platter. I had the Mahi…owen had carne.
The sun set down into the ocean, with the kids having a great time taking pictures. I caught a pretty good one of them jumping. Allie really likes to take a lot of pics! and I enjoyed taking them!!!

Yippeee! Its my birthday!
When the sun goes down, believe it or not it gets a tad chilly! I love watching the sun sink into the ocean, and the colors afterwards are awesome!
We decided to go to Old Mazatlan, to the downtown square. We visited a beautiful cathedral, and did some shopping.  On the way there we stopped and watched some cliff diving.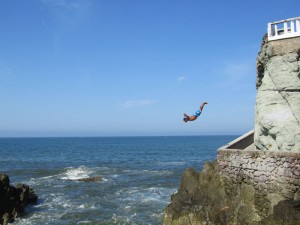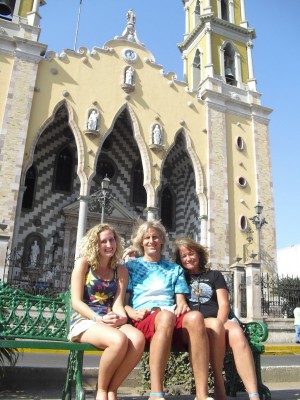 He was a young guy….he waited for the right wave and just missed the wall!
We also stopped for lunch on the beach. Its really fun to be right on the beach!!! Whatever it is that you are doing!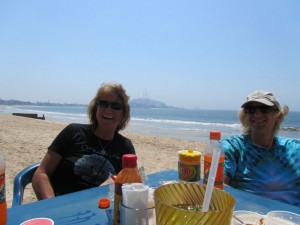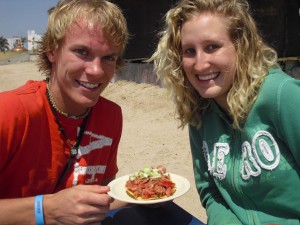 Sometimes your not exactly sure what your getting to eat!

Our days were winding down here at El Cid, and we were starting to plan for our next part of the journey. We went into town and had a lovely man do our laundry at a lavenderia (which is totally awesome for someone to do your laundry!) everything was folded expertly, even the underwear!
We took the jeep to get washed at a local car wash, which was done by hand. George did a superb job on the jeep! It really needed it badly!
The last day that Allie and Jessie were with us we went out to her favorite breakfast place down on the beach. The Balboa Beach Club.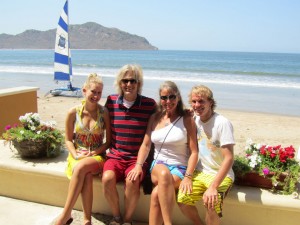 Here is a shot of us after breakfast sitting on the wall behind our table. They had the best grapefruit juice I have ever had. It was fresh squeezed!
And the food was delicious too!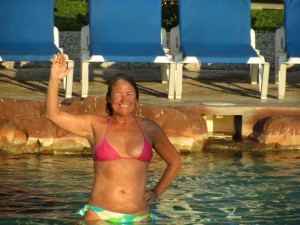 And, so its the last day, and with a dive off of the cliffs at the pool, and a few laps to try to work off the 10lbs or so I have put on, (yikes!) I wave goodbye squinting into the aftenoon sun.  Bye-bye El Cid!