Hi Everyone!
Well, its another awesome day here at Lo De Marcos, Nayarit, Mexico.
For the next two weeks, there is a holiday here in Mexico called Samana Santa. It is a national holiday here in Mexico, and everyone gets 4 days off this next week. All of the natives come to the beaches and celebrate until Easter.
There are palappas built all over the beaches, selling really tasty food ….tacos, grilling entire chicken, beef, Oysters on the  1/2 shell, all different kinds of fruit and candy. Lets not forget the cervecas and margaritas. There are also hot dog carts. They love hot dog here. If you were to ask for sausage and eggs, you would get hot dogs! (I also experienced that in Thailand.)
We finally have some company at the La Parota RV Park, where we are staying. The entire town will be packed for the next two weeks with folks coming to camp. I am looking forward to this very authentic cultural experience.
I would like to do a shout-out to the Sunlight Ski Patrol!  Hope that you guys had a great spring season and have fun at the banquet! Kudos to all of the folks winning awards this year. Lo De Marcos is a surf town, so I'm planning on learning to surf…one board to another! If anyone wants to visit, just let us know! There are lots of different opportunities and options. Also, have a fun spring run-off…..I'm really going to be missing that river and my raft Grace, that's for sure!
As I block the sun from eyes as I watch the surfers doing their afternoon rides. Owen gets my attention and takes a pic.
We finally went out and got ourselves a hammock. Its a two-person hammock, and is super for that afternoon siesta.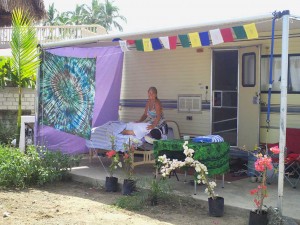 I have been doing some energy work and massage for some rental trade. We will need to get our FM2′s so we can work legally.
It was good to do some energetic healing! Listening to the waves was the best music ever!
Owen and I take a walk down to the end of the cove and back at sunset just about every day. There is always something new to discover, it seems.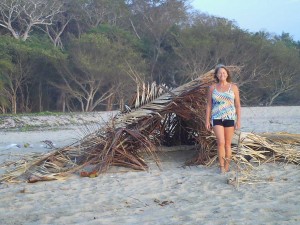 Here is a little palappa style shade hut. It wasn't there the day before…..
Its nice to see the sun going down into the ocean, knowing that it will be another beautiful day in paradise tomorrow
Buenos Nochas…y yo hasta luego!